Merry Christmas!
December 14. 2019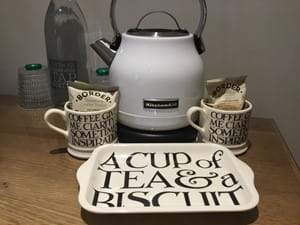 I can't quite believe it is almost Christmas.  Must be my age, but they do seem to be getting closer together.
John installed new festive lights outside and Bleet Cottage looks wonderfully welcoming - several guests have remarked it looks like the film The Holiday.
We have recently purchased small Kitchenaid kettles for the bedrooms which have been much admired by guests; a quality upgrade from the generic kettles we had before.
in January, we will be getting various tasks done, including replacing one of the en-suite bathrooms. Using our usual Farrow and Ball palette, together with shiny new bath, toilet, basin, shower and taps as well as Mandarin Stone floor and wall tiles.  It will be a beautiful space which will be ready to be enjoyed in February.  
Wishing everyone a happy Christmas and look forward to welcoming you in 2020!
Our very best wishes
John and Jan Bird 🎄