New en-suite bathroom is finished!
February 18. 2020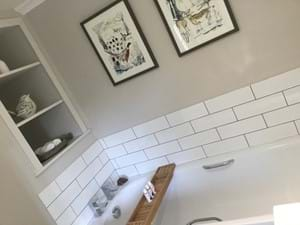 Plenty going on here during January as the new bathroom in the Garden View Room is now finished and ready for guests to enjoy.  The bedroom is smaller that the other room we offer but the bathroom is very spacious and boasts full bath, separate shower, washbasin and toilet.  All beautifully gleaming with Mandarin Stone floor in modern country style.
The daffodils are coming out and the carpet of snowdrops is quite something to see as you come up the drive.
Rabbits aplenty and the deer are keeping their distance but do come nearer the cottage occasionally.
Lots of maintenance jobs have been done, before we start to get busy again.  I am delighted to say we already have six repeat visitors coming back to stay, which really is wonderful.  Quite apart from being able to welcome them back, it is good to know someone has enjoyed their stay enough to return....we take that as a bit of a pat on the back!
Spring is a beautiful time of the year, with flowers and foliage coming to life.  Hans will be returning to help with the garden and I have a brand new wooden greenhouse being installed where the old one was - it was falling apart and was helped on its final goodbye by the recent storms.
Whether you are a new guest or returning to stay this year, we look forward to seeing you and hope you have a relaxing stay with us, whatever the time of year.